Outreach
M5' Outreach Projects
Social and Artistic Impact of your support
How to support our Non Profit Organization METALES M5 MEXICAN BRASS A.C.
Help M5 Bring The Gift Of Music To Underprivileged Kids
1. OUTREACH PROJECTS
M5 MEXICAN BRASS dedicates at least 50% of the group's time and concert schedule to educational projects. In Mexico M5 offers concerts for children who have no access to live music due to their social-cultural circumstances.
In 2013 alone M5 received 150 invitations from public schools in small communities in Mexico, eager to have the ensemble perform a live instructional concert for their students.
The Mexican Arts Council, FONCA, provided funding for 32 of these concerts in 2013/14. The other 118 concerts  are pending since then until sufficient funds can be raised.
These instructional concerts introduce the children to various musical styles, composers, genres and instruments. They are highly interactive and very popular with the kids.
In the US, the quintet's concert schedule includes regular instructional concerts and workshops, or master classes. In most cases the quintet absorbs the costs of these because most schools budget between $300 and $700 USD per concert/course, which does not even cover hotel costs.
Between April and June 2013, M5 MEXICAN BRASS performed for more than 25,000 kids in Mexico, the US and Canada. In the 2014/15 season, another 15000 kids experienced the benefits of an M5 live performance.
With the hope of raising sufficient funding to fulfill all the instructional concerts which were applied for in Mexico since 2013, the non profit Organization (Asociacion Civil) METALES M5 MEXICAN BRASS A.C. was founded. 
One of M5's outstanding projects were the San Miguel de Allende school performances in the Teatro Angela Peralta, where the quintet performed for, and with, deaf students of the Escuela de Educacion Especial de SMA. Here is a video of one of the two live performances:
Can deaf children sing?
Click here to find out.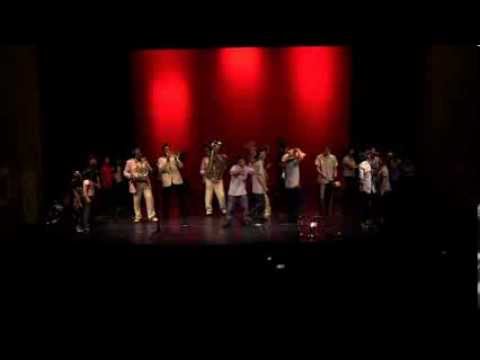 The impact on a child's life of one of these educational-entertaining concerts is beyond description in words.
2. YOUR SUPPORT
a) Educational Impact 
By making a tax-deductible donation you, in partnership with other individual donors, businesses and foundations, can help to provide the remaining funds needed for the Music Education and Outreach Programs and Educational Concerts of METALES M5 MEXICAN BRASS A.C.
These performances provide critical enrichment for more than 20,000 students/ year in public schools in México, and in low budget communities during our US and Canada Tours. 
In other words, thanks to you, these projects come alive.
Provided with the necessary funds, the Quintet can present concerts and participate in artistic-educational events that have neither the budget to hire the quintet, nor to provide travel or hotel expenses, as was the case, for example, with the MERIDA INTERNATION BRASS FESTIVAL 2013. With more such concerts we can provide education and inspiration to even larger audiences each year.
b) Artistic Impact
Your support also makes possible the creation of new original compositions for Brass Quintet in collaboration with internationally renowned composers. By giving a tax-deductible donation, you are supporting M5 MEXICAN BRASS in the creation and realization of new programs, compositions, arrangements and artistic "cross-over" projects.
You can help promote the international presence and artistic development of Mexico´s only professional brass quintet, which is becoming one of Mexico´s most high profile international cultural ambassadors.
M5´s main purpose is to create new audiences for classical music and to promote cultural communication among various countries through the performing arts. Inspired by this purpose our chamber concert experiences reach an audience of more than 45,000 people annually in the US, México and Latin America.
Examples:
Our commissioned works in process are:
–Lorenzo Toppano (composer/ arranger/ producer, Australia): new Album "MEXICAN BRASS" (2015/16)
-Ken Bichel (EMMY winning composer, pianist and arranger, NYC): "Sphéres" for Brass Quintet (2015) http://www.kenbichel.com
-Kevin McKee (composer/ trumpet player, Washington DC): "Galleons and Cutlasses" fro Brass Quintet
http://www.kevinmckeemusic.com
-Nonis Prado (composer, México): "Cuarteto para Quinteto" (2014)
– Robert McKay (University of Hull, GB) : "Altered Landscapes II"  for METALES M5 (2013), audio-visual installation for brass.    http://www2.hull.ac.uk/scarborough/campus_departments/sanm/meet_the_team/rob_mackay.asp
– Wolfgan David Ordoñez Peña (Winner of the national composers award 2012, Colombia):  "Quinteto de Metales" para METALES M5 (2012)
– Alexander Pashkov ( pianist/composer, Russia/ México) : "Ragtime", "Tarantelle", "Bossanova" for METALES M5 (2012/13) http://www.alexanderpashkov.com
_______________________________________________
3. HOW TO SUPPORT M5 MEXICAN BRASS A.C. 
MEXICO:
Please contact us at metalesm5@gmail.com for details about donations and their tax -deductible receipts.
USA:
Please make cheques payable to:
P.A.R.C.
PO Box 2479
Mendocino, CA 95460-2479
And please write on the cheque: "M5 MEXICAN BRASS"
P.A.R.C. will send you, as a donor, a copy of our 501 C-3 tax-exempt letter and a formal letter thanking you for your support of Metales M5 MEXICAN BRASS.
P.A.R.C. does not accept cheques for less than $500 USD.
If you wish, we can create projects linked to your name or the name of your company.
We will keep you updated about our projects on this website.
Many thanks for your support, with musical greetings,
M5 MEXICAN BRASS